Since its creation, Google has existed to serve searchers and provide them with the best answer to their questions. Because of this, Google updates its algorithm on a regular basis and prioritizes different factors when it decides where to rank websites.
We've seen a lot of updates over the last several months and, based on Google's announcement yesterday at Google I/O, we'll also be seeing some changes in the overall search experience.
Google is going to use AI in their new search interface to create what they're calling the Google Search Generative Experience. This AI will create unique answers to the questions people search.
Here's what this will look like: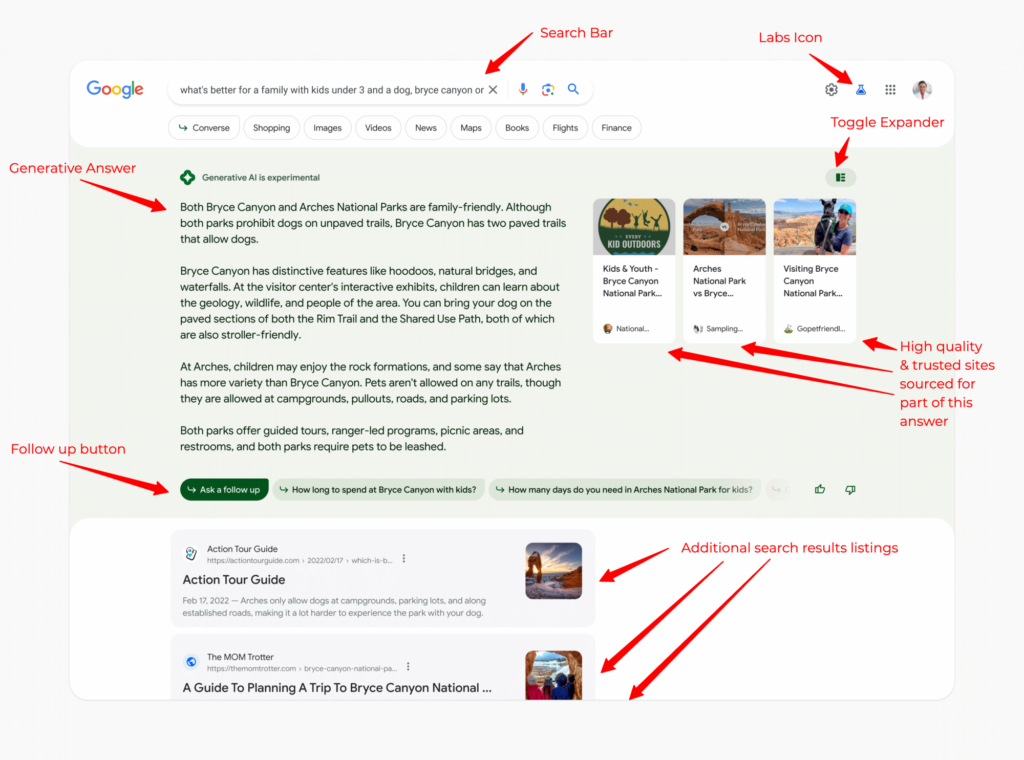 What we know:
It won't happen for every search: Google isn't going to generate answers for every search, but rather it will give you an AI-created answer when Google's algorithms think it's more useful than standard results. This doesn't come as a huge shock, we're already seeing some early versions of this. For instance, if you Google "how to tie a tie" you're much more likely to find a video explanation as the top result than a written article because it's a more direct path to the outcome you want, and Google knows that.
However, Google won't generate answers for those in health or finance (at least for now).
EEAT is even more important now: A recent algorithm update brought a concept called "EAT" to the forefront of search optimization. It's the idea that content displaying "Expertise, Authority, and Trust" are more likely to be what the searcher is looking for and are therefore pushed toward the top of the ranking. Just stuffing a bunch of keywords into your content isn't going to do it anymore. The newest "E" is "Experience." That means Google wants you to show what you've done and how you've actually applied the "EAT" you have in real-world situations. Expertise and experience are crucial for content, which is why we want to work with you to ensure your industry experience and insider knowledge makes it into the articles we create.
There's no need for panic: Yes, this is big news and will change how people search via Google. But SEO is still important, and we're working hard to understand what this will look like as it gets rolled out. At the end of the day, people are still looking for solutions to their problems, and you still offer them those solutions. Google's job hasn't changed either – it still wants to act as the best conduit between the questions people ask and the answers that are out there for them online – answers you provide! What's changing is the way Google delivers those answers to its users.
At the end of the day, quality, well-written content that's good for human users and Google is what it takes to thrive online. This is what we've always focused on, and it will always remain a priority.
What we don't know:
When this is rolling out: we don't know when this will go live yet. Google is currently opening a waitlist for people to try it, and will start sending out invites after a few weeks. It's likely the invites will go out in waves.
I just signed up for the waitlist to test it!
How ads will play into it: Ads will appear – they have to if Google wants to keep making money so it can provide all those fancy perks to its employees and pay for its big shiny campus out in Silicon Valley (not to mention its ridiculous salaries and executive bonuses), but we're not exactly sure how Google will integrate ads. For example, we don't yet know if there will be a way to exclude ads from generative search results, and Google has said that they'll "test and evolve the ads experience as we learn more."
A safe bet is that beginning to invest in a value-driven, multimedia content strategy is a better idea now than it's ever been. As users begin to see different kinds of content in their search results, big intrusive ads pushing people with urgency and scarcity and 10% off sales will become less and less effective.
How Google determines what links to include: Right now we're assuming that the most highly authoritative websites will be given priority for those links to the right of the AI-generated answers. High-quality backlinks are going to become even more important, as is a relevant ecosystem of content that establishes you as an industry leader.
We don't know all the details yet. In fact, nobody does! It's an uncertain yet exciting time to be in SEO. We're being presented with a unique opportunity: to stay on the cutting edge of new trends and make sure our clients are on top of things as their competitors fall behind. And you can rest assured, that's exactly what we're doing.