Note: Following is an edited transcript of this video, featuring Dave Conklin, 5K | Formerly Conklin Media's founder and chief executive officer and business growth expert.
Do you struggle with managing your projects? If so, you are not alone. Here, I'm going to reveal a project management worksheet that has been a total game-changer for our team. I've also included a link at the end of this article to the project management template for your company to use.
Ready to uncover one of the best free project management tools for businesses? Let's dive in!
What Is Project Management?
For years, our team has been trying to come up with a solution for managing our projects all in one place. We've found quite a few really great programs, including Liquid Planner, that's helped us organize our projects. That said, I still have this challenge with breaking down everything that's going on in my world.
Why a Project Management Tool Is Necessary for Project Management
We have a lot of different projects within a lot of different businesses. In addition, I've got personal stuff going on as well. To help me and my team get organized, I've gone through the Getting Things Done (GTD) program, the 12 Week Year and a variety of management books and project management software.
While these programs were somewhat helpful, none of them allowed me to communicate with someone on my team about everything that's going on, as well as keep myself accountable at the same time. I'm a very driven guy, but I'm also very distracted. Thus, one of my personal challenges as an entrepreneur is getting projects done while shiny object syndrome is happening all around me. So rather than staying focused, I chase something over here and then chase something over there. The next thing I know, three weeks go by and that thing that I wanted to complete just isn't getting done.
Does this sound familiar?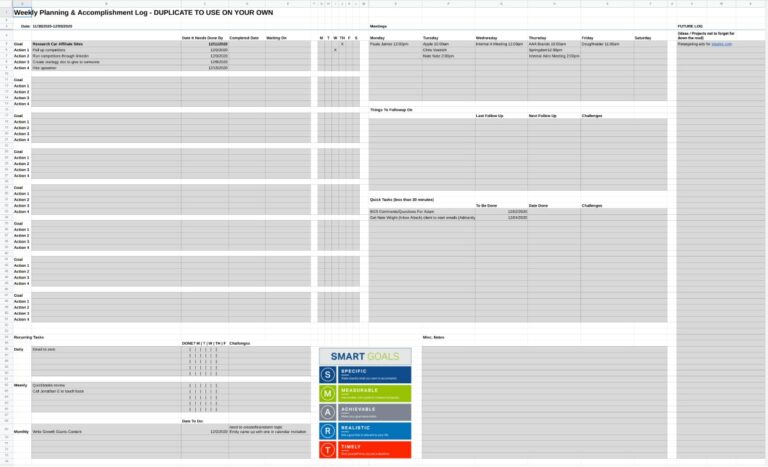 GET THE PROJECT MANAGEMENT WORKSHEET

In addition to my personal challenges, I have teammates who live in worlds where there's a proactive and a reactive side to their job. The proactive side involves things that they're actively seeking out and trying to accomplish in order to grow. Then there's the reactive side in which they have to react to different things that take place at their job. One of the biggest challenges for my teammates is the goal of being proactive in getting things done while also dealing with the reactive stuff that clogs up their bandwidth. This not only makes their job more complicated but causes them to never get to the proactive plans.
That's when we decided to create the Weekly Planning and Accomplishment Worksheet.
How We Designed the Project Management Worksheet Template
Before you go ahead and download a project management worksheet of your own, I want to give you a quick tour of how this template works. After I explain how you use the project management worksheet, you can visit the link and copy your own version of it.
I like to print the project management worksheet in tabloid size (11×17 inches) so that I can sit down and review it on my desk. Throughout the week, we'll handwrite over the template our new ideas and goals. Then on Friday, the worksheet will be updated so that the next week starts with the new information that we handwrote.
Project Management Template Design
When we created the project management worksheet, we literally sat down with a blank Google Sheet and designed this template. Here, I'll explain what each section is for and how it will help you with project management.
Project Management Goals
As a rule of thumb, you should not work on more than three projects at a time. That being said, I know we have some overachievers out there, and this is why we designed our project management worksheet to have eight different "big goals" blocks. These are for the projects that you really want to get done. What's great about this template is that you can put in anything you want. Whether you have goals for your business or for your personal life, you can keep track of which goals you've achieved.
Once you've created your list of goals, you can break them into different actions. On our template, each goal has four actions. These actions allow us to write down what it will take to get us closer to our goal. Additionally, we can give our goals some deadlines.
To the right of these goals, you'll see a small calendar where you can put an "X" to indicate the day you're going to be working on that action item. To the right of this chart, we have a basic rundown of all our meetings.
Use the Project Management Tool to Follow up on Certain Tasks
Below our meetings' schedule, we have a section for things to follow up on. Throughout the week, whenever you have something new happen that you need to follow up on, this template allows you to keep track of those needs.
For example, I had a meeting just a bit ago that required me to review a document. Sometimes, in my world, multiple people will be on an email and ask questions to the group. No one responds because they all think the others are going to respond; however, it doesn't hit anyone's radar and nothing gets done. Three months later, you're like, "I thought we were doing this," and everyone else is like, "I thought you were doing it." But the truth is that nobody did it.
With this template, you'll be able to write down all the tasks that you want to follow up on so you can keep the ball moving forward.
The next section on our project management worksheet is the Quick Tasks block. This section is for tasks that will take you 30 minutes to an hour to complete. Once these tasks are complete, you can put a mark next to them.
After the quick tasks comes the recurring tasks. The recurring task section is for the things you have to do every day, week or month. Simply list them out and put an "X" when they're done. Right next to these tasks, we have a section to indicate any challenges that came up during the process. These challenges are simply items that need to be addressed in order for these tasks to continue moving smoothly.
Write Future Project Management Goals
We also have a section for miscellaneous notes. Additionally, on our project management worksheet example, we included a graphic that explains smart goals.
My favorite part of the project management worksheet is the future log. One of the challenges I have is when an idea comes in my head and then I just want to start investigating it.
For example, I may have five things that I want to accomplish in a day. But somewhere during the process of completing them, a distraction comes up. A phone call might come in or team members get their own ideas. Or I may have a meeting with one of my teammates about a certain challenge. And, consequently, I don't get back to my ideas until later on in the day or week.
That's where the future log comes in handy. If it's not an emergency situation, this section gives you room to write down all the different items you're going to think about in the future. Once you're ready to tackle them, you'll move them from the future log to the task list.
In Conclusion: Best Project Management Worksheet
I hope you find this project management worksheet template to be helpful. As you can see, project management shouldn't have to be stressful. This project management worksheet is a great way to have your team make their own goals to accomplish throughout the week. Remember, this isn't so you can check up on them, but so they can check up on themselves. Your teammates want to leave at the end of the week knowing they accomplished what they wanted to achieve, and this template helps them do just that.
Below we've included a link to this project management template. Feel free to make a copy of it as well as play with the layout to make it fit your needs.
Do you have any questions or want to share how you used the project management worksheet? Let me know! Feel free to shoot me an email if you have any questions or comments.