There's no way around it: building backlinks is tough work. And building high quality, relevant niche backlinks is even more difficult. That being said, it's certainly not impossible. And there are a few ways to make it easier than relying solely on manual outreach.
These are a few of my favorite ways to get niche-relevant backlinks, and I can personally vouch for each one: I've used the three techniques described below to build links to 5k.co.
What are Niche-Relevant Backlinks?
Backlinks support your site best when they're from another website in the same niche as yours. Relevant links help cement your website's connection with relevant topics and industries in the eyes of Google. Remember, Google (and other search engines) recognizing you as an authority in your space is an important ranking factor.
SEO services

can help you get more backlinks.
Why Are Relevant, White Hat Links Important for Your Website's SEO?
White hat links, or links you earn that properly follow Google's guidelines, are a crucial ranking factor. Think about it like this: each time a site finds your site's information worthy of linking back to, they're giving your website an endorsement. They pass along link equity (also known as link juice), a signal of value and authority.
Every website has an authority score. The higher the authority score of a site that's linking back to you, the stronger an endorsement they're able to give. As a general rule, high-authority sites offer high-quality backlinks. Sites with strong authority usually have higher levels of organic traffic, too, so more people are likely to come across your external link.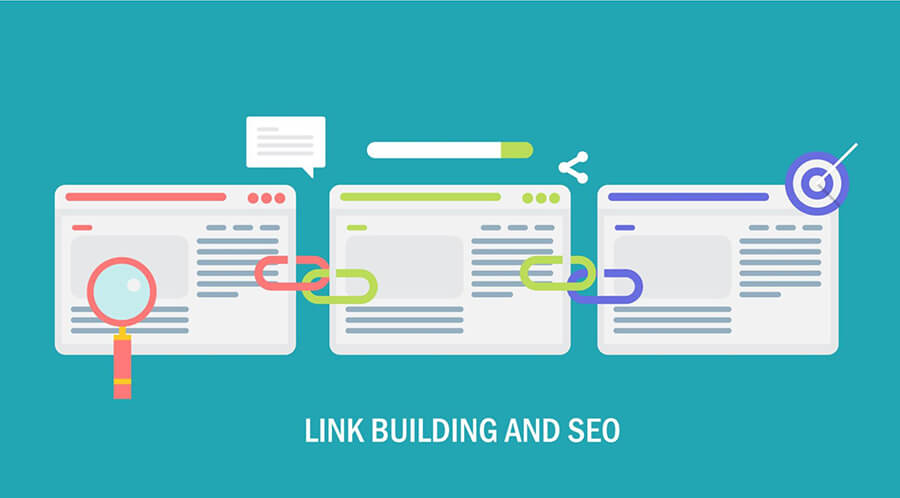 My Proven Techniques for Getting Free Niche Relevant Backlinks
Have you been scouring the internet trying to find an answer for how to get niche relevant backlinks?
HARO, Terkel, and Facebook groups are all good options for getting niche relevant backlinks to your website. As a bonus, these links are very high quality, and they're free!
You also don't necessarily need to write another piece of content for your website to utilize HARO, Terkel, and Facebook groups for link building. These techniques are easier than creating a blog post, searching for relevant blogs, or going after broken links.
I can promise you that these strategies are actually actionable, too. I've used them myself, so you know a real human (and not some SEO AI writing platform) is giving you this advice.
For each of the following methods, I'll give you background information about the platform, tips for using it successfully, and then let you weigh the pros and cons to decide if it's the best method of getting high-quality links for you.
HARO
HARO is probably the most well-known of my recommended techniques. It's a great way to receive requests for pitches from journalists in a wide variety of industries.
What Is HARO?
HARO, or Help a Reporter Out, is a service you can sign up for as either a journalist or a source.
The concept is simple: journalists are looking for sources for their articles in a range of sectors. If they like your pitch, they'll feature you in an article and usually link back to your website.
How to Get Backlinks Using HARO
Getting started on HARO is easy. You'll just need to visit the website and create a profile. From there, you can sign up to receive emails. You can choose which industries you'd like to get queries from, as well as how often you'd like to get these source request emails.
When you get the emails, you'll need to read through the calls for sources and see if any are relevant to you. If you find any to your liking, you can respond with your pitch.
Pssst… we've written a great, in-depth guide to HARO on our blog.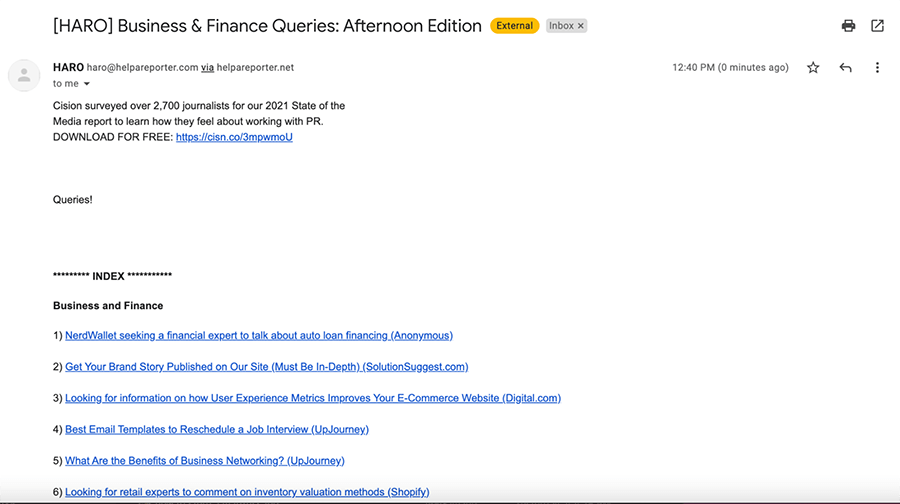 Is HARO Good for Link Building?
Pros:
Signing up is easy.
Sending pitches is easy, too; you just need to click the email address and you can respond in your inbox.
Cons
It can be overwhelming to receive emails with so many requests.
Sometimes the windows for pitches are extremely short.
The industries are somewhat limited, so you may not find anything relevant to yours.
Terkel
Terkel is a newcomer to the link building game, but it's certainly worth taking a look at. Within a few weeks, I've been able to get a DR 55 backlink!
What Is Terkel?
Terkel's goal is to "connect brands with expert insights." The platform operates similarly to HARO, but instead of receiving emails every day, you'll need to log into a dashboard and answer questions there.
How to Get Backlinks Using Terkel
You'll first need to build a profile. Terkel requires your company's name and url, as well as a headshot and some information about you. You'll then have access to questions from a variety of publications. If you're using a free account, you'll be able to answer 5 of these questions a month.
The site offers a clean and easy-to-use dashboard. They offer helpful features like a list of all the pitches you've made, a list of successfully published urls, and even handy metrics like your success rate.
Is Terkel Good for Link Building?
Pros
Great user interface and dashboard.
You set up your account with a bio and headshot so you don't need to worry about sending them in every time you respond to a query, which saves time.
Cons
You don't receive an email with every request for pitches, you'll need to log in and check Terkel for yourself.
Some requests are on a first come, first serve basis. So once Terkel receives a certain number of pitches, they may close it.
Relevant Facebook Groups
Facebook: it's not just for sharing memes and your favorite cat videos. The social networking platform has proven to be a great way to network professionally, as well as a way to get backlinks. The most recent one I got for our website had a DR of 87, which is certainly powerful in Google's eyes.
What Are Facebook Groups?
Facebook groups offer a space for friends and strangers alike to build a community around anything from a broad niche to a very specific topic. There's a group for seemingly every interest and industry (I've joined groups related to marketing, SEO, content, and even my hobbies: horseback riding, growing houseplants, and birdwatching).
How to Get Backlinks Using Facebook Groups
These communities can be a powerful tool for getting backlinks. You'll need to join groups relevant to your industry or niche. Usually groups are private, and there's a short form you'll need to fill out if you want to join where you'll share information about yourself and agree to group rules.
Pay attention to group rules: sometimes discussion about backlinks isn't allowed.
Once you've joined the group, connect with others who have websites in your niche. Sometimes, people will write articles and ask for sources in the group. Otherwise, you'll need to take a more proactive approach and reach out to specific people about publishing a guest post.
These communities are very much based around exchanging value. If you're offering insights or contributing to dialogue, you'll have a better chance at someone taking your outreach seriously.
Are Facebook Groups Good for Link Building?
Pros
Facebook communities are a great way to connect with others in your niche, and not just for the sake of link building.
Any links you'll receive are usually hyper relevant.
Cons
You'll need to find relevant groups, which may take a little work depending on your niche.
Some groups have strict rules, and you may not be able to discuss linking opportunities.
Other Potential Ways to Build White Hat Backlinks
I am always testing for new link building opportunities, and you should be, too! Don't rely on a single source for building great links. You'll find that you may need to get a little creative as you continue your link building efforts. Not every source is going to be a winner, but it usually takes trying out several methods before you strike gold.
I want to get more backlinks to analyze before I personally vouch for these techniques, but here's what I have in the works right now:
SourceBottle
This platform operates similarly to HARO and Terkel: it's for journalists and publications who are looking for sources. You'll receive an email each day with listings. Keep in mind that SourceBottle is based in Australia, so some requests for sources may not be relevant for American businesses.
Slack Channels
Slack channels operate similarly to Facebook groups, but aren't as common for every niche. Still, you can be a part of a great community if you can find one that's relevant.
LinkedIn
I've had plenty of people reach out to me on LinkedIn for guest posts (and done a good bit of outreach myself). Connecting with people in your industry can lead to potential opportunities down the line, but don't expect this outcome.
Follow LinkedIn best practices to encourage connections: make sure you have a good headshot, your title is up-to-date, and you have a bio that reflects your industry expertise.
Niche Relevant Link Building Services
For many websites, using these techniques to get high-quality backlinks isn't everything you'll need to create an authoritative website.
There are plenty of other factors at play, like technical SEO, internal links, and more. A successful link building campaign can get you link placements on high-quality sites and improve your domain authority. Just make sure you're taking care of other important SEO factors, as well.
If you don't have the time to do outreach through HARO, Terkel, or Facebook, or you simply need more links than you can get through those platforms (especially if you have a hyper-specific niche), then a link building service can help.
If you're looking for contextual links, we can discover link opportunities for you. We focus on backlink relevance, domain rating (by using authoritative websites), and creating links that align with Google's preferences.
We can also help you earn natural links by creating amazing content and infographics.
Interested in learning more about our SEO linkbuilding services? Contact us in the form below and we'll create a custom link building strategy designed to meet your goals.