If you don't have a go-to digital marketing team, you're already behind in your industry. If you haven't figured digital marketing into your business plan at all, it's likely you're not even on the map.
Print media has become an endangered species in the marketing world. The marketing industry is evolving at such a fast pace that it has nearly swallowed paper communication. If you want your business to keep up with the times, you have to factor in a digital marketing strategy. With strategy comes implementation, and to do both, you need the right members on your team.
But who do you need in order to succeed in digital marketing?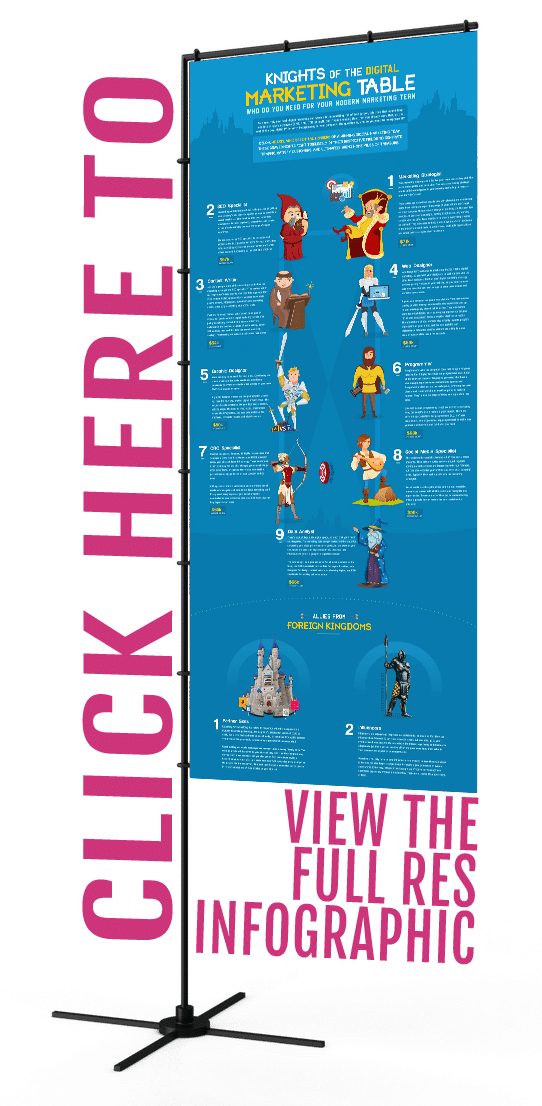 Every day is a battle against your competitors. You shove and slash your way through the day, hoping to gain the trust and business of your target audience. Some fights you win, some you lose. When you recruit the right soldiers, you'll find yourself outranking your competition more often.
Not every soldier wears a suit of armor, though. Digital marketing experts arrive for battle in various uniforms.
We want to help you strengthen your army with guidance on the right knights to add to your digital marketing round table. Add these strong strategists to your digital marketing army and watch it thrive!
The Marketing Strategist and the SEO Specialist
With the digital marketing world constantly changing, you need a marketing strategist and SEO specialist who will work together to generate a bigger bottom line for your business.
Marketing Strategist
The king of marketing strategists is the digital marketing mastermind. With exquisite insight into the latest marketing trends, your strategist can lead the development of effective campaigns that attract your target audience while keeping the rest of the marketing department on task. Looking for the best marketing strategist? Here are some things to consider:
Years of experience. How long has this person worked in the digital marketing realm?
Industries of expertise. Is the marketing strategist familiar with the field in which your company specializes?
Management experience. What size team(s) has this marketing strategist overseen?
Hiring Tip: When interviewing for your next marketing strategist, search for someone who is not only an expert at what they do, but who also brings the right personality. Look for someone who will work with your team, not above them.

SEO Specialist
Being at the top of search engine results pages (SERPs) will help increase your sales, and an expert SEO specialist can get you there. The high quality SEO specialist possesses the drive to conquer Google's constantly changing algorithms. This specialist focuses on searching far and wide to find the holy grail of keywords, or keywords most relevant to your brand, and use them to help your website rank higher. Qualities include but are not limited to:
Extensive research skills. Keyword research involves gauging the popularity, competition, and trends of keywords and keyword phrases.
Competitive spirit. With a thirst to be first, the SEO specialist thrives in a competitive environment.
Passion for progress. Keyword trends fluctuate, so monitoring their performance is essential for success.
The seasoned SEO specialist on your team should hold experience in optimizing website content, including everything from product descriptions to blog posts, with the right keywords while adhering to Google's SEO best practices.
The Content Writer and the Web Designer
Content and design go hand in hand. One without the other is futile. Your content writer and web designer must work together, for the common good, to bring your vision to life.
The Content Writer
Also occasionally referred to as the "copywriter," the content writer crafts words in such a way that keeps visitors intrigued and, therefore, on your site longer. When you hire a good content writer, you're likely to see a drop in your bounce rate as visitors peruse your website in search of more valuable content.
The renaissance content writer can compose a variety of content types, including but not limited to the following:
Product/service descriptions
Blog posts
Press releases
White papers
Ebooks
Webinar scripts
Website copy
Your content writer should bring a mix of creativity and experience to your digital marketing round table.
Quality over quantity. A reputable writer uses only what is necessary to convey the desired message.
Imaginative mindset. An experienced content writer can add value through topic brainstorming.
Online writing experience. Writing often improves with experience. A seasoned content writer is likely to produce better quality work than a college intern.
Remember, anyone can write, but not everyone can write well. Highly sought-after content writers can adapt their style and tone to fit whatever type of content needed while remaining in check grammatically and mechanically. They also abide by SEO best practices and wrap keywords into their text almost effortlessly. These writers–few and far between–possess a clear understanding of content in the world of digital marketing.
Hiring Tip: Always ask for samples of various content types. If you're looking for ongoing content, ask for samples of blog posts, press releases, and e-newsletter copy.
The Web Designer
With your other digital marketing team members working so diligently to direct your target audience to your website, it's essential that you have nothing short of gold waiting there for them.
In collaboration with the content writer, the web designer creates a masterpiece–the digital representation of your brand. What users see within the first 30 seconds of landing on your website can make or break their decision to pursue your services. A professional web designer will listen to your vision and then convey it through a user-friendly design unique to your business.
A website needs to be easy for the target audience to navigate, with color combinations easy on the eyes and a layout conducive to conveying your overall message. Therefore, your web designer should possess these qualities:
Attention to detail. Shapes, colors, positions–every last pixel counts when creating an appealing, easy-to-navigate website.
Visionary. A top quality web designer can view a project from various angles. This helps in each part of the design process, from conception to implementation.
Team player. Since your entire marketing campaign is connected to the website, your designer needs a collaborative mindset prepared for criticism.
A highly recommended web designer creates layouts equipped to include calls to action on every page. An effective site design will reflect a high leads-to-sales conversion, meaning the user was so pleased with their experience on your website that they found what they were looking for, were able to complete the sales funnel, and are now a qualified customer. [Enter email marketing!]
Reputable web designers possess the skills required to produce website designs conducive to all devices, including desktop computers, tablets, and mobile phones. In some scenarios, however, the design layouts and/or functions may differ on specific devices (e.g., iPhone vs. Android). That's when your programmer steps in to save the day.
The Graphic Designer and the Programmer
The tales of the graphic designer and the programmer are quite intriguing. They often cross paths with the content writer and the web designer, and in fact, it is not uncommon for a web designer to serve as a graphic designer as well.
The Graphic Designer
In regard to content, words alone don't always convert. The graphic designer creates stunning visuals that captivate your target audience in such a way that they're compelled to pay a visit to your website.
The graphic designer focuses on creating visual content for everything from LinkedIn and Facebook ad campaigns to infographics for your website, so it is essential that this person understands your industry and the products or services you offer.
Just as with content creation and web design, graphic design requires a creative mindset. Visualizing different perspectives of an industry allows the designer to conceptualize various avenues for message delivery. A graphic designer may create:
New logos
Branding materials
Icons
Infographics
Brochures
Advertisements
When creating infographics, the graphic designer often works closely with the content writer to ensure their visions align. The visual representations on an infographic should always relate to the written message.
Some graphic designers even dabble in illustration, drawing designs by hand. The only visuals a graphic designer doesn't usually create are photographs.

The Programmer
The programmer compiles computer code behind the scenes that ensures everything on the frontend runs smoothly and appears flawless. Computer code is a whole separate universe of languages, to which not all designers are privy. Because programmers are so well versed in the various code languages, they usually inform the rest of the digital marketing team what can and cannot be done to bring client visions to life.
Some skills the reputable programmer usually brings to the digital marketing table include:
Critical thinking. Quick fixes for coding complications don't always exist. Discovering the right solution may take some research and/or experimentation.
Patience. Code is confusing, and it will take time to comb through every line when searching for the initial issue.
Design. Programmers often have an eye for design, thanks to their understanding of the various computer code languages.
The programmer often plays the hero when a web page won't scroll right, an image is missing, or some other crazy coding issue arises, as well.
The CRO Specialist and the Social Media Specialist
The conversion rate optimization (CRO) specialist is a help to everyone internally; whereas, the social media specialist frees up time internally and is the go-to resource for all social media communications and management.
The CRO Specialist
An expert CRO specialist analyzes your website and digital PR strategy to ensure you're getting the most out of your resources. This specialist brings all sorts of ideas to the table to help improve various marketing aspects of your business, including but not limited to the following:
Leads-to-sales conversions
Content marketing
Social media advertising
Since every part of your marketing strategy aims to improve your conversion rate, the CRO specialist delves into each and offers solutions for optimizing your processes. An experienced CRO specialist can even develop an customized campaign that focuses on the specific marketing goals you have for your company.
Not only is the CRO specialist tech savvy, but also an expert at communication. This specialist provides explanations from multiple perspectives in order to accommodate the various learning styles and levels of comprehension. In many cases, the CRO specialist is approaching people who aren't as versed in digital marketing lingo, so it's handy to have this addition to your team.

The Social Media Specialist
Social media will never go out of style. Sure, some platforms have faded (*cough…MYSPACE…cough*), but others are thriving, and each provides different functions.
A social media specialist can manage all your company's social channels, from Facebook and Instagram to LinkedIn and Twitter. The ultimate social media specialist has a go-to social media management platform, such as HootSuite or SproutSocial, that allows the user to schedule posts for publication across multiple or individual accounts. Other responsibilities include but are not limited to the following:
Interacting with followers, addressing any questions or concerns in a timely manner
Optimizing profiles, ensuring all location and bio information is clear and up to date
Pitching ad campaigns, working closely with the marketing strategist
The ideal social media specialist possesses high written and verbal communication skills and is highly personable. This person serves as the voice of your company, resolving any negative comments and acknowledging positive feedback, so a certain level of trust must be established before you hand over all of your social accounts.
Hiring Tip: Ask your applicant what social media platform they see growing in the future and why, and which platform they see thriving. Be sure to ask what resources they use for keeping up with the latest social media trends.
The Data Analyst
With the exorbitant amount of data floating around in the digital universe, it is wise to invest in someone who can gather and explain it in laymen's terms. That's where the data analyst poofs in.

This wiz is highly knowledgeable in all things digital marketing and can break down data to show you and your team how your website is performing and just how effective your digital marketing tactics have been in improving your leads-to-sales ratio. This allows you to see in which marketing areas your team members are excelling and which tactics could be improved.
The data analyst needs expert communication skills to effectively work with the following team members:
SEO specialist, to better develop keyword lists
Web designers, sharing projected design trends and collaborating on choosing the right design for the client's target audience
Content writers, helping with topic ideation
CRO specialists, assisting with the identification of weaknesses and solutions to strengthen those areas
Working with the entire team, the data analyst can help the marketing strategist ensure the entire digital marketing project runs smoothly and successfully.
Form Trusted Allies
The members of your digital marketing round table often have connections. These connections can help establish credibility among your target audience and, in turn, boost your bottom line.
Partner Sites
Developing relationships with partner websites is a colossal help in link building. When owners of potential partner sites realize it benefits them to agree to host your links, they're more apt to establish that connection and build upon that relationship.
Communicating via social media is a fun way for your social media specialist to build relationships with those who run sites that appeal to your target audience.
Guest blog posts serve a dual purpose–link building and expanding your audience reach. Content writers can pitch guest post ideas to potential partner sites and then include backlinks to your site during the writing process if partner sites agree to feature your company. Then, the SEO specialist steps in and ensures the content looks clean and optimized, including the use of proper anchor text. When connecting text to a link, the exact text must be directly related to wherever the link leads.
Remember, no relationship is meant to be a one-way street. However you choose to develop relationships with partner sites, never ask for a favor without offering something to benefit them in return.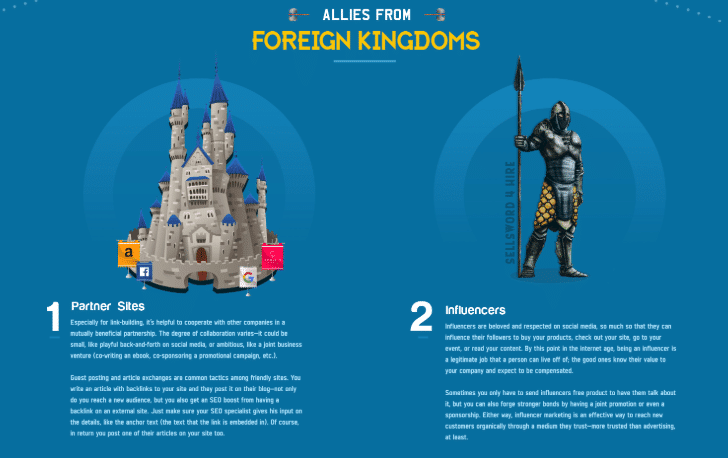 Influencers
Never underestimate the power of influencer marketing.
An influencer is an individual with a certain social standing, or sphere of influence, who speaks highly of your product or company. These days, many have large digital followings. Celebrities may be the first who come to mind, but many brands have turned to others like entrepreneurs, industry experts, and even popular bloggers to help market their products and services.
But what makes a man or woman of success a true influencer?
Knowledge of the industry
Passion for the product
Integrity among the audience
Take a close look at the brands your target audience follows. What influencers are those brands using? Who are your competitors using for influencer marketing?
But keep in mind that just because someone in your industry has a large Twitter following doesn't mean they're your ideal influencer. This person should also actively engage with their followers, showing interest in their likes and addressing concerns.
Embark on the Epic Quest for Conversions
Members of your target audience may not convert for a number of reasons. Maybe you haven't built a strong enough castle of credibility within the community. Perhaps your digital presence is sub-par. Or worse yet, your website is broken and outdated.
Together, the knights of your digital marketing team can conquer those obstacles and help win the trust (and business) of citizens across the World Wide Web. Watch what happens when they band together to strategize and implement the following four forces of the digital realm.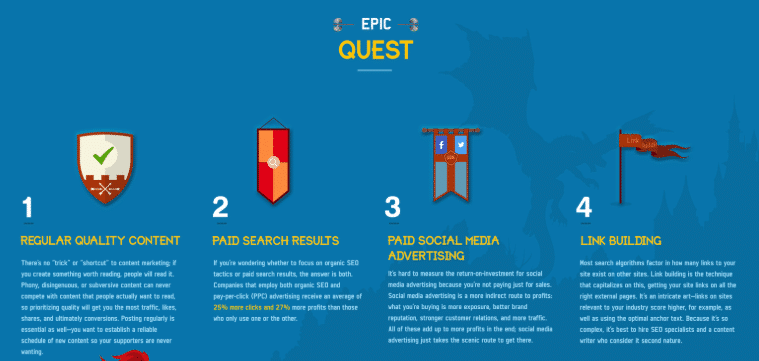 Regular Quality Content
It's no secret that quality content converts. That's why adding the right content writer to your digital marketing team is essential. Quality content is more than just words. It serves a purpose, carries meaning, builds credibility. Sometimes it's entertaining, but it's never dry. The content you publish should capture the culture of your company while remaining relevant and easily digestible for your target audience.
From a technical perspective, quality content can increase your organic SEO and should incorporate:
A focus keyword
Multiple supporting keyword phrases
A solution for your audience
Social share buttons
Your content should always be sharable. If you're publishing to your blog, be sure the post is accompanied by buttons to all the popular social media platforms and an option to send to a friend. You can have your developer install one of various plugins for social media share buttons and another to instantly distribute your content over many of those platforms. Shared content is excellent for brand awareness, creating an avenue for new visitors and, in turn, new business.
Paid Search Results
PPC is great on its own, with a potential to more than double your ROI. Add organic SEO strategies to the mix, and together they can lead to more than 27 percent more profits for your company.
Some other noteworthy benefits of PPC campaigns include:
Increase in website traffic
Better control of advertising expenses
Real time analytics
Google Analytics is golden. You can see how your ads are performing in real time, which makes it easier to adjust spend and recognize trends to better optimize your campaign.
Paid Social Media Advertising
Millions of people are swimming around on social media daily. Your ad reach on one platform alone can work wonders for your brand recognition. Benefits include but are not limited to:
Increased brand awareness
Building brand reputation
Improved relationships with current customers
Beginning relationships with potential customers
Driving more traffic to your site
Understanding your target audience is essential. Publishing on one platform may not be as effective for some campaigns as publishing on another. These are our three favorite platforms for social media advertising:
Facebook
Instagram
LinkedIn
The graphic designer and content writer can put their heads together and work with your social media specialist to create ads that convert.
Link Building
Gaining credibility through link building is another way to increase your conversions and win your target audience. This particular challenge is a quest all its own.
Two contributing factors of your page rankings in search engines are the number and quality of links out in the abyss of the World Wide Web that lead to your website. If your company sells watches, for instance, a link from an oil refinery's website to yours will do you no good. It is not relevant to your industry, so search engines will rate it as lower quality. However, if relevant anchor text of a link to your website is found on a jeweler's site, search engines will award you a higher score. This is where building relationships with partner sites often comes into play.
The SEO specialist is often equipped to identify link building opportunities, and a professional content writer can choose the perfect anchor text to accommodate link-for-link opportunities.
Who Will You Choose For Your Digital Marketing Round Table?
Building a strong, healthy digital marketing army is a lot tougher than it looks. Maybe right now your budget doesn't allow for every soldier. Or perhaps your current marketing efforts require only a select few members. Be sure to do your research before hiring for any of these positions.
Many will apply. Few will qualify.

Is your budget too small to add an entire digital marketing team to your staff? See how you can save by bringing on the business growth experts at 5K | Formerly Conklin Media. Together, we can enhance your marketing efforts and improve your results. Contact us today for a free consultation.