Slow shipment times and empty store shelves have been the norm during the COVID-19 pandemic. Recognized as an essential business, Dorner has shifted into overdrive during this challenging period for businesses.
A provider of industrial, packaging and sanitary conveyor automation solutions and based in Hartland, Wisconsin, Dorner has been instrumental in helping businesses pivot and scale quickly to meet soaring market demands.
Along the way, this reliable and nimble company has demonstrated that it's up to the task of pivoting itself to connect with prospective customers in different ways at a time when its team can't connect in person at tradeshows.
Dorner Rises to the Occasion in Providing Production Facilities' "Mainline" at a Critical Time
In recent months, Dorner has partnered with mask manufacturers to meet the global need for protective facial coverings, for example. The company's custom FlexMove Conveyors and personalized services have enabled Breathe Medical Manufacturing to ramp up production in producing more than 40 million masks monthly to improve safety.
In another case, Dorner worked with Husco, which shifted from manufacturing hydraulic and electo-mechanical components to making N95 respirators for health-care professionals and first responders. Dorner delivered the required 2200 Series conveyor, a highly versatile platform built for many applications and industries, on the same day the companies first discussed the ideal conveyor solution.
"Conveyor systems are often the mainline of production facilities," said Laura Anderson, a Dorner marketing specialist. "Dorner has been getting many requests as companies expand and shift production to support the manufacturing of items such as masks or cleaning supplies as well as food production. We have been prioritizing all orders related to the COVID-19 crisis to ensure we are doing everything we can to help keep our communities healthy and support our economy."
To achieve this, it's taken an all-hands-on-deck effort from the Dorner team to complete orders. "The employees at Dorner have gone above and beyond to get these orders fulfilled as quickly as possible, often quicker than our promised lead time," Anderson said.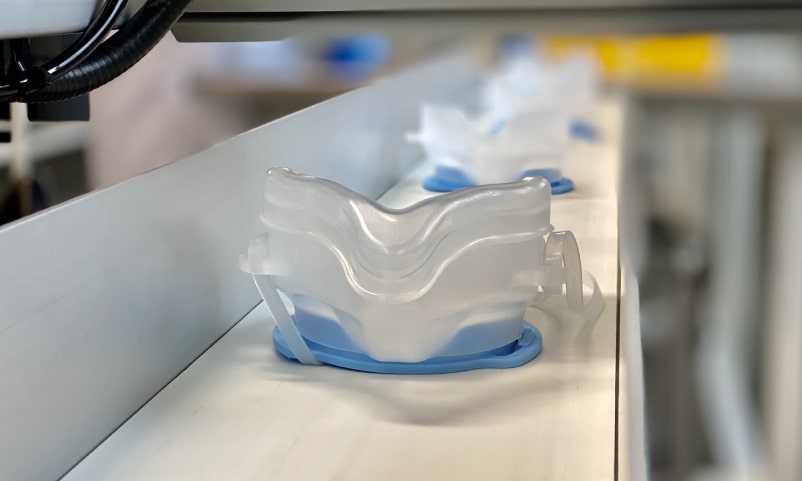 Customer and Consumer Safety Is Dorner's Top Priority
Safety has always been a top priority for Dorner, but with the coronavirus outbreak, safety has become more important than ever at businesses across the world. Updated CDC recommendations advise keeping employees stationed 6 feet apart whenever possible while making use of barriers or partitions.
"It is necessary to have processing equipment that allows you to keep your operation running while keeping your employees safely distanced," Anderson said.
Dorner's AquaPruf Conveyors are ideal for food-processing companies that need a sanitary and adaptable solution in which mounting bars, tables and partitions can be added and moved without any tools required. The AquaPruf line delivers the peak level of conveyor sanitation, and its features—from tip-up tails and belt lifters to frame cut-outs—allow for fast inspection and cleaning.
Dorner's Team Pivots From Attending Trade Shows to Hosting Virtual Booths
Just as Dorner has responded to business' needs during the COVID-19 pandemic, so, too, has the company in reaching out to and communicating with new and existing customers.
Dorner has long met with customers face to face at various industry trade shows throughout each year. Once the coronavirus took hold, however, all these in-person trade shows were canceled.
When a major event called Interpack, held in Germany, was canceled last spring, the Dorner team decided to host a virtual booth on the company's website. At this virtual booth, customers can watch videos featuring the conveyors sales representatives had planned to bring to Germany.
"For the upcoming shows this fall, we are planning on going even bigger with a more-in-depth virtual booth that will give visitors the experience of seeing us in person without the need to travel," Anderson said.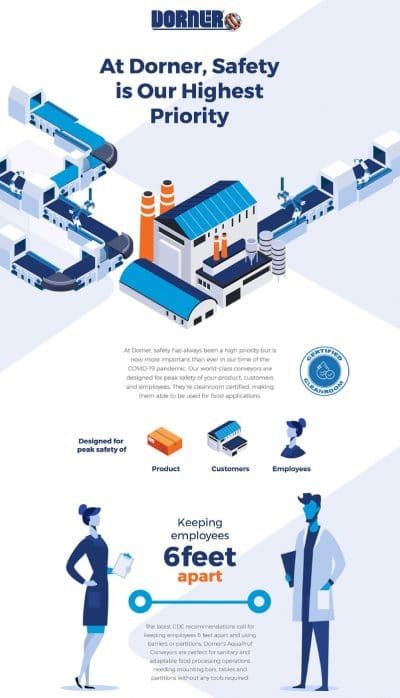 Dorner Credits 5K | Formerly Conklin Media Team in Helping Restructure Paid-Ad Campaigns to Maximize New Opportunities
5K | Formerly Conklin Media has enjoyed a longtime relationship with the good folks of Dorner. The Conkin Media team worked closely with its clients early on when the coronavirus was leading to quarantine recommendations. The team worked with Dorner's marketing team to restructure Dorner's paid-ad campaigns to meet shifting needs and maximize new sales opportunities.
Bridgette Jaeger, a Dorner digital marketing specialist, describes efforts by Josh Eberly, a 5K | Formerly Conklin Media partner and the agency's chief operating officer, and 5K | Formerly Conklin Media in general to be "pivotal" during this project.
"With the transition of many things moving to digital, we knew that PPC was an area we needed to capitalize further," Jaeger said. "Dorner's conveyor systems solve a variety of industrial, packaging and sanitary automation needs, and we require a strategy reflective of that. 5K | Formerly Conklin Media's PPC expertise and guidance combined with our industry insight was the perfect combination for a quick, effective update to our paid campaigns."
These recent adjustments have resulted in more productive spend, lower cost per conversion and an overall increase in conversions. "We are looking forward to continued optimization with 5K | Formerly Conklin Media," Jaeger said.
Take Your Business to the Next Level With 5K | Formerly Conklin Media's Business Growth Experts
If your business craves assistance in developing, executing and managing multi-tiered marketing strategies, strongly consider the 5K | Formerly Conklin Media team in putting your products and/or services in front of new customers and/or clients. Our seasoned team of business growth experts have helped businesses across a range of industries understand how they can do business and achieve success in a matter of only months.